FinnAllah Eid-middag 2019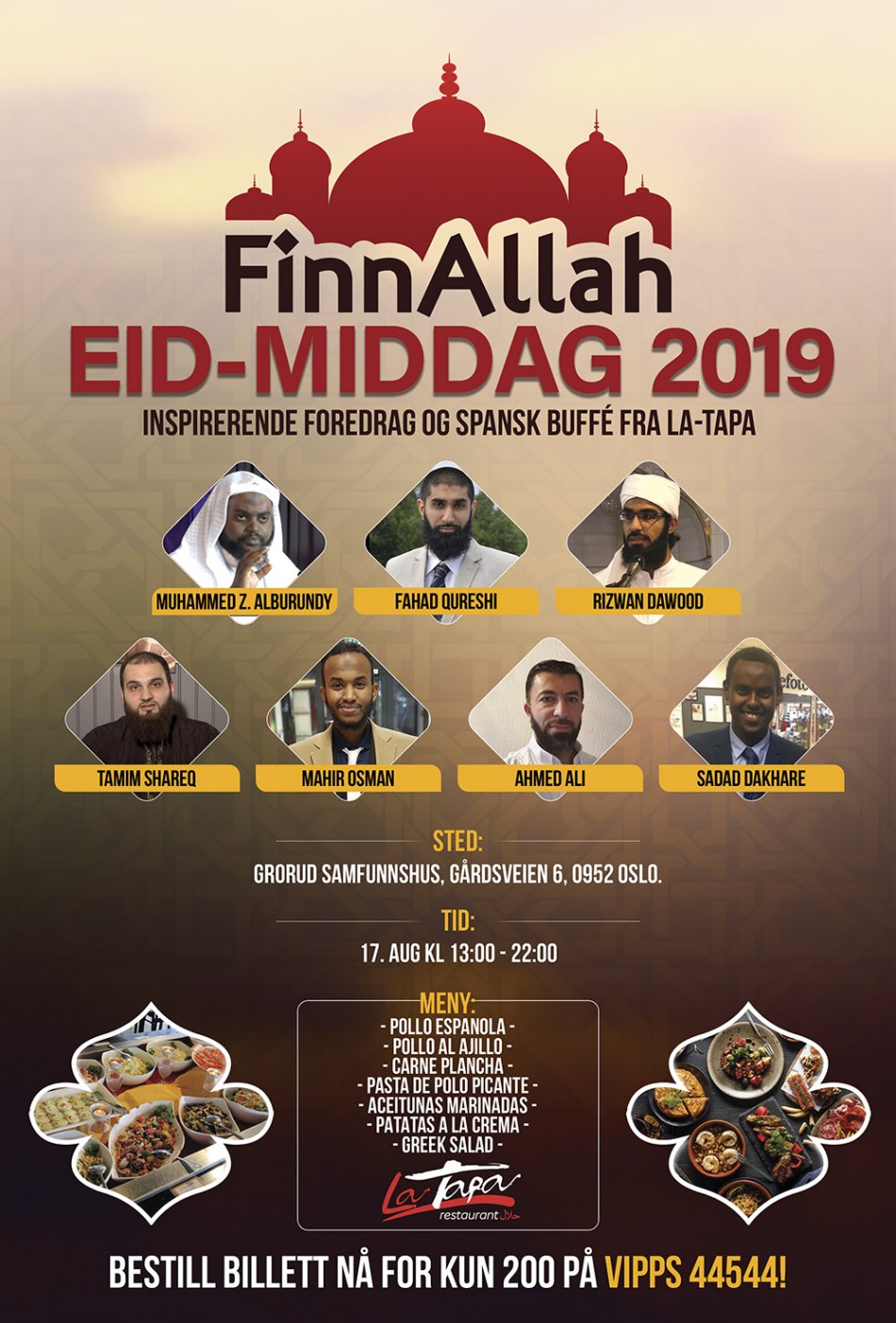 Med stor glede inviterer vi alle til FinnAllah Eid-middag 2019! Det blir gode og inspirerende foredrag av 7 av Norges dyktige foredragsholdere. Det blir delikat spansk buffé fra Norges første halal spanske restaurant La Tapa.
☆ Bestill billetter nå på vipps 44544! ☆
Billetter koster kun kr 200 for de første 100 som bestiller. Deretter blir prisen kr 250 for de neste hundre, og de siste billettene vil koste kr 300. De som bestilte på vår Ramadan-iftar betalte kun kr 100.
☆ Foredragsholdere og temaer ☆
Hvordan oppnå suksess?
– SADAD DAKHARE
La Koranen entre ditt liv
– TAMIM SHAREQ
Menneskerettigheter i islam
– MAHIR OSMAN
Muslimenes ansvar i Norge
– AHMED ALI
Veien til ekteskap
– FAHAD QURESHI
Muhammed: Den beste rollemodell
– RIZWAN DAWOOD
Salah: Nøkkelen til Jannah
– MUHAMMED Z. ALBURUNDY
☆ Spansk buffé fra La Tapa ☆
POLLO ESPANOLA
Tender strips of chicken breast cooked together with pepper, onion, tomatoes, chili and garlic.
POLLO AL AJILLO
Chicken breast baked in the oven with garlic, paprika and cayenne pepper and special blends of herbs.
CARNE PLANCHA
Grilled Tender strips of beef sauté with onion garlic, chili and fresh herbs.
PASTA DE POLLO PICANTE
Pasta & chicken breast cooked in a creamy tomato sauce with mushrooms & chilli.
ACEITUNAS MARINADAS
Black & green olives marinade in lemon, garlic, chillies, herbs, peppers & olive oil.
PAN AIOLI
Fresh bread with homemade red peppers hummus & alioli (Spanish garlic sauce).
PATATAS BARAVAS
Deep fried potatoes in our homemade spicy tomato sauce.
PATATAS A LA CREMA
Potatoes cooked with garlic, cream and fresh herbs. Baked in oven with mozzarella cheese.
GREEK SALAD
Greek salad with red onion, tomatoes, cucumber, olives and lots of feta cheese.
Sist redigertmandag, 19 august 2019 18:15